Electrotherapy – Interferential Current (IFC)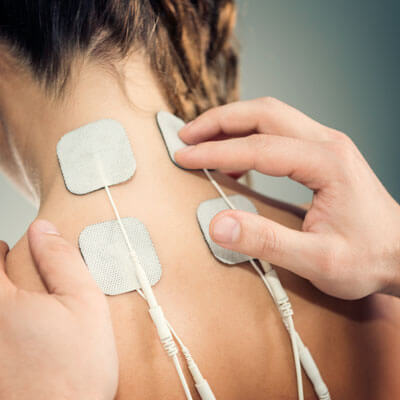 What is it?
Interferential current is a form of deep electrostimulation which targets biomechanical/anatomical structures which are the underlying cause of acute, chronic and post surgical neuro-musculoskeletal conditions.
How does it work?
Electrodes (sticky pads) placed on the surface of the skin are used to intermittently transfer an electrical stimulation to target tissues. This typically takes from 15-20 minutes. Intermittent electrical impulses delivered to muscles and nerves temporarily block the pain signals thereby reducing pain and swelling and increasing blood flow. This increased blood flow provides hormones (endorphins) and nutrients and promote the removal of toxins to the target tissues resulting in improved function and healing.
How long will it take to see results?
Many patients experience some improvement right away, however the healing time for each patient can be influenced by many variables. Dr. Taillefer may incorporate Electrotherapy – IFC as part of a comprehensive approach to care, which includes chiropractic adjustments and other supportive therapies to help restore balance, symmetry, and proper motion to your body.
Schedule Today
Contact us today to book an appointment.
CONTACT US

Electrotherapy Centretown, Ottawa ON | (613) 234-2391