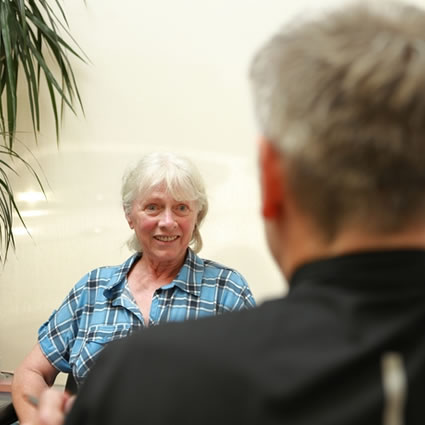 Motion4Life Reviews
What Our Ottawa Patients Say
At Motion4Life we love when patients share with us their feedback and comments after chiropractic care. Please read our patient testimonials below to see what other people have achieved through their tailored treatment plans with us.
Share your stories too! Click here to send us your feedback so that we can help to spread the word about the benefits of natural Motion4Life care.
For more information, or to schedule an appointment contact us today.
* Results for one patient may not be typical of all patients.


RESTORING FAITH IN CHIROPRACTIC
Will return for regular maintenance visits.
Restored my faith in chiropractic procedures.
- Carolle C
GREAT (AND CHILLY) SERVICE!
Dr. Paul is awesome. I had a shoulder issue.. one adjustment and it was 70% better. One week later I had regained full range with no pain. The only complaint and its not even towards the staff. It's sooooo cold in the office. Brrrrrrrr. Add in Biofreeze and I'm a popsicle. Dress warm.
- Pierre B
SO GRATEFUL
I was pleasantly surprised by the attentiveness, thoroughness and great communication. I am so happy and grateful now that I have an excellent chiropractor! Thank you, thank you, thank you!
-TE
MIRACLE WORKER
I was in indescribable pain. On huge drugs. Skeptical, as are many. So, Last resort… Nothing to lose. Perhaps impossible to believe but the pain is now gone. I do not believe in Testimonials. Especially in Health. I am Associate Editor of a Canadian Health Journal. And can be contacted to verify the veracity of the above. Sure wish this had been documented and published – it would do a lot for the profession.
-RW
10,000 Steps!
I went to see Dr Paul for treatment of my spondylolisthesis (slipped disk) which had become so painful I could no longer walk or stand at times. I was living with constant pain and my only option seemed to be surgery. I had tried cortisone injections, months of physio and massage therapy but nothing helped! I just kept getting worse. I read about the chiropractic Cox technique and decided to try it with Dr Paul. That was 8 months ago and I now have my quality of life back! I can walk again and have gone from daily severe pain to only occasional mild flare-ups. After 4 months of treatment I was able to walk 10,000 steps a day without pain! I still can't believe the treatment worked this well as I was so discouraged. If you have slipped disk issues, I would highly recommend Dr Paul with his professionalism, experience, understanding and his miraculous Cox therapy:) A life changer for me and surgery is no longer required. :)
-LP
Restored Hope
I hope it I'll bring a smile to your face to be reminded again and thanked for the wonderful gift you have given to me. You took a near-suicidal man in unbearable pain and restored him to a sense of health and hope for the future.
– Reg W.
Professional and Courteous
In the last 4 months, I had an unexpected problem with my back which was painful and restricting. Treatment was begun twice a week and over its course, I have progressed from using a cane to walking independently. I now have no pain and have been able to increase my activities, consistently on a weekly basis. Thank you for everything, Dr. Paul. His courtesy, sensitivity and professionalism is also very evident in the office staff.
– Mary
"He Repaired Me…."
It's a rare occasion that I take the time to offer a review for someone, but in this case it is more than warranted. By sheer luck I found Dr Paul Taillefer and I am much better off for it. It's not just that his skill level and understanding of chiropractic is exceptional. He combines this with a caring attitude and an abundance of patience which is so rare these days. I was suffering; he repaired me; I wholeheartedly recommend him.
– Steve
Better Life
If it wasn't for Dr. Paul, my ringing in my ears would still have persisted. With just a couple of adjustments to my neck, the ringing was gone within two weeks of treatment. Also, I had chronic back pain, and since Dr. Paul has been treating it, I have about 80% less pain and that is from the chiropractic care I get from Motion4life. I am able to have a better life on a daily basis these days. I would recommend anyone to see a chiropractor if they were experiencing any kind of pain. I am a believer in chiropractic medicine.
– Arnold
Highly Recommend
I tried many other treatments before turning to a chiropractor, including osteopathy, acupuncture, physiotherapy, and massage therapy. None of these treatments seemed to improve my condition or level of pain. Chiropractic has allowed me to return to a high level of physical activity after several months of intense pain and inactivity due to a "sequestered disc" impacting the sciatic nerve in my left leg. I would definitely recommend that they give it a try, and would specifically recommend Dr. Paul of Motion4life. Within only a week of treatment I was off painkillers completely and within only four weeks of treatment, I was able to go on a hiking trip to Arizona and the Grand Canyon which I had seriously considered cancelling. After a few more months of continued treatment, I embarked on a successful cross-Canada cycle trip. I continue to get treatment there because of the care, attention to detail and listening skills of Dr. Paul and staff.
– Lori
Amazing Results
Following a collision, I experienced constant headaches as well as severe back and neck pain. Since beginning my chiropractic treatment program, the results have been amazing. Within 2 months, my headaches have been relieved completely. I have also noticed a dramatic improvement in regard to my back and neck pain. Thank you, Dr. Paul Taillefer for the excellent care you consistently provide.
– Hussein
Thorough and Efficient
I have much more pain-free mobility now, I'm 63 yrs. old and have had issues with my back for quite a few years. Based on my experience and how it has improved my quality of life I would not hesitate to refer anyone to Dr. Paul for chiropractic care. There was no hidden agenda. I was told immediately after assessment that there would be some discomfort after my first few visits. Dr. Paul was very thorough, honest and efficient during each treatment. Dr. Paul also possesses good civic spirit and shows compassion towards your situation.
– DS
Back to Being Independent
When I started to see Dr. Paul, conventional physiotherapy and prescribed anti-inflammatories had done nothing to relieve my symptoms associated with my left arm and shoulder for 7 years. I live a very physical day; I was frustrated because I couldn't get my work done without pain and help; I no longer even attempted my favorite leisure activities. I was disheartened about my future.
Within 6-9 months pain and spasms were greatly reduced, I was sleeping better; my range of motion had been restored, as well as my strength and endurance. Ongoing maintenance visits over the past 5-6 years have progressively reduced frequency and duration of flare-ups.
Dr. Paul recently identified the source of a sudden onset of migraines I had been having ~3x/wk. over a month that was making driving and computer work difficult. In one appointment he identified and alleviated the cause; they have not come back.
What I like about Chiropractic is that it is non-invasive, non-chemical treatments that work. Dr. Paul gives you clear explanations and expectations. The staff are all very caring, professional and helpful. Today, I enjoy being physically active and being Independent.
– K
Able to Maintain Health
Chiropractic care has improved my life in a variety of ways. I have been under chiropractic care for most of my life; from minor injuries requiring a few treatments, to longer care due to a car accident. Now as a mature person it is important to maintain my health and chiropractic care allows that. My treatments have allowed me to regain my mobility, flexibility, and thereby improve my strength. I look forward to a very long relationship with chiropractic care well into my 100's.
Friends have asked me about chiropractic care and to be honest I am amazed that they have never tried it. It was my grandmother who first introduced me to chiropractic care. While in my twenties I worked construction. The heavy lifting and twisting gave my body quite a beating; however, my chiropractic care kept me going. Later in life, I attended university which required long hours sitting at a computer or reading. My neck, shoulders, and back suffered for my studies. Once again, chiropractic care was there to help me regain my flexibility. Honestly, I can't understand why people would be nervous about chiropractic care. Dr. Taillefer of Motion4life uses progressive techniques combined with traditional knowledge of adjustments to produce gentle and tender care treatments not seen in other clinics. He helped heal a recent injury to my shoulder, and is helping heal an old injury on my hip. Never mind about Superman, take the time to meet Super Chiropractor, Dr. Paul Taillefer. I believe he wears a cape emblazoned with Super Chiropractor, helping individuals that have been given up on to repair injuries that are recent or old.
Dr. Taillefer's use of progressive techniques combined with traditional knowledge of adjustments producing gentle, tender care treatments that removes the pain of movement. It is wonderful to regain your flexibility, and strength when you had resigned yourself to sitting on the side lines as life goes by. Once again, I am out walking in this wonderful season, in addition I am sleeping well again which has made a great difference in my outlook on life. Pain causes you not to be involved in life and the lack of pain takes you from despair to joy. For me the joy of movement enriching my life, improving my sleep, and enabling me to be involved in social activities.
– MW
Kind, Welcoming People
I have nothing but great things to say about Dr. Taillefer and Sue. Wonderful, kind, welcoming people with impeccable professionalism!
– Mark C.
Excellent!
Dr Paul & staff are excellent!
– Connie C.
This is Great!
I have been a patient of Dr. Paul's for the past 15 years. His treatments have allowed me to lead a very active life and at age 84 this is great!
– Cindy R.
Great Service!
Great service for many years. Thanks. JC
– Jean-Claude
Able to Start Doing Yoga Again!
I had a biking accident resulting in bruised ribs and soreness in my back. Dr. Taillefer was very professional and helped my mobility immensely in three sessions. I have returned to work and am able to start doing yoga again. Thanks guys!
– Samantha S.
Magic Hands
Dr. Paul has magic hands and Sue is warm and friendly.
– Norm
Best Education
The best education on spinal mechanics ever!
– Chris S.

Motion4Life Reviews | (613) 234-2391