Kinesiology Taping in Ottawa
As part of our comprehensive approach to musculoskeletal health, we offer kinesiology taping for our Motion4Life patients. This non-invasive therapeutic technique offers a number of benefits that can help facilitate healing and repair of tissues.
How It Works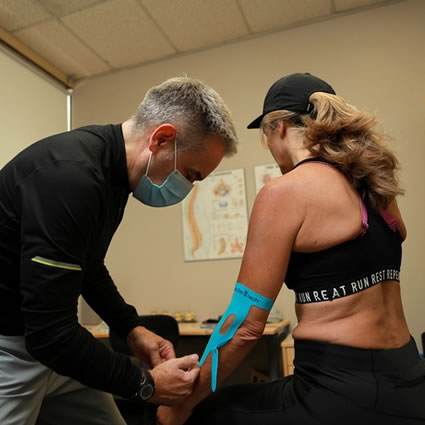 As the name implies, kinesiology taping uses a special type of tape that is applied to the skin in specific ways to achieve particular results. Based on his thorough examination, including postural analysis and other biomechanical evaluations, Dr. Taillefer will let you know if taping may be able to help you achieve your goals.
Kinesiology taping can be used for three main purposes:
Neurosensory (Pain relief): The tape microscopically lifts the skin and disrupts the sensory pain signal from the injured tissue which reduces or even eliminates inflammation and pain.
Structural (Supports or limits movement): Kinesiology tape can be applied in such a way as to support the underlying tissues, or to restrict movement. Limiting movement is sometimes necessary to allow injured tissues to heal properly.
Microcirculatory (Promotes lymphatic drainage): When the skin is lifted microscopically, lymphatic drainage can occur more easily, helping the body detoxify and reduce inflammation. This promotes better overall health as well as pain relief.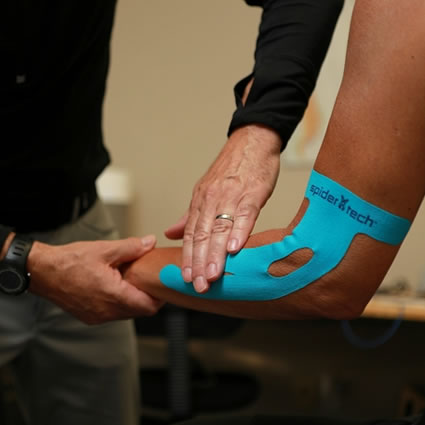 Our Approach
The method of applying the tape varies from situation to situation, and Dr. Taillefer has the experience and training to design an approach specific to your needs and goals. Used in combination with chiropractic adjustments, myofascial release and other therapies, taping can be an important part of your overall healing.
We use Spidertech kinesiology tape, which is made in Canada of stretchy, breathable cotton. The adhesive is latex-free.
Who Can Benefit
You might see athletes on TV wearing brightly colored tape, but you don't have to be an athlete to benefit from kinesiology tape. It can be helpful for anyone suffering with pain or inflammation in tissues or joints.
Schedule Today
Contact us today to book an appointment.
CONTACT US

Kinesiology Taping Centretown, Ottawa ON | (613) 234-2391